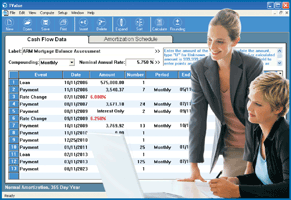 This is the indispensable software program for anyone interested in the time value of money, the note business or investing. Use it for analyzing complex cash flows and generating very professional amortization schedules. The applications of TVALUE amortization software for the note broker, note investor, real estate investor, etc. are endless.
Solve virtually any problem involving time and money.
TValue software will calculate the present value (buy price) of virtually ANY payment schedule at any desired yield: straight, ARM, skipped payments, balloons, annual payments, quarterly payments, variable interest, reperforming notes you name it. Just try to stump it — you can't. It will even calculate the present value of a note where payments change every month!
With TValue amortization software, no note, loan, lease or any cash flow is too complex. No balloon payment is too difficult to calculate. No investment yield is a mystery. This software is absolutely indispensable — some national note investment firms insist note brokers own this software before they will even talk to them!
But that only scratches the surface of this incredibly powerful software. Structure loans and leases, structure loan modifications and troubled debt restructuring (TDRs), and to solve time value of money calculations in seconds.For structuring or amortizing loans with irregular payments, balloons, or rate changes, TValue software is the perfect loan amortization software tool. Automatically generate an amortization schedule with just a click of the mouse.
Use TValue to find notes!
Market for notes by offering free amortization schedules to anyone holding a note. You'll have note owners calling you! When you provide their free TValue amortization schedule you can talk with them about the advantages of selling their note, and use TValue to make an offer.
Accurate and easy to use.
Join over 500,000 financial professionals who rely on the accuracy and ease-of-use of
TValue
.
TValue

is perfect for computing mortgage payments, checking interest due on a note, determining the rate on a lease, or calculating the yield of an investment.TValue

will even compute the APR for the most complex loans, including points, fees, and prepaid interest.
Perfect
amortization schedules in seconds.
Detailed amortization schedules provide you with the interest and principal components you need. Totals can be displayed at selected intervals. You can even export TValue amortization schedules to Microsoft Word or Excel.
Mortgages, loans, leases

Present and future values

Computes rate of return

Adjustable rates

Skip payments

Investment yields

Irregular cash flows

Prints amortization schedules

Prints APR Reg. Z disclosures
Try TValue risk-free.
It comes with a one year money-back guarantee.
No matter how complex the calculation, TValue software makes it easy!
System Requirements:
Supports Windows XP and above (including Windows 7), and Windows Server 2008 and 2003 Terminal Services and Citrix is being used successfully by TimeValue Software customers with no known issues in this environment

At least 10MB RAM and 5MB disk space